Playoff Heaven in the White Horse Swanage
An unfortunate scheduling of the playoff semi final meant it clashed with the annual BURKS Boyos weekend, which this year was on the Isle of Purbeck, Dorset.
Chris Bates' best efforts to get to Spotland were thwarted by the trains, so he had come along for the weekend. The decision was made to watch the game in nearby Swanage. "It's only 3 miles to Swanage – there's plenty of time" was the cry as we set off along the cliff path at 9:30.
As time moved on it became clear we were not going to get there in time for the kick-off and even more frustratingly at 12:00 we were still out of mobile phone range! By 12:15, we were in range and had a feint 2 minutes of commentary over Chris' phone before that went dead. And then the phone rang "We're one down – dodgy penalty" was the cry from Chris. Gloom and doom set in as we eventually got into Swanage at 12:35.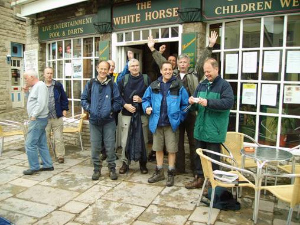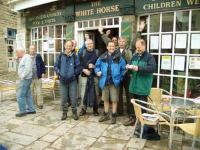 Soaking wet, we trooped into the White Horse, where Tom, the operative of the controls for the 63 inch plasma changed it from Cup Final It's a Knockout to the big match. Within 3 minutes of sitting down, it was back to 1-1, hope was restored. Then a big sigh of relief when Darlo hit the bar, was followed by periods of doubt that Dale were going to score. That is until the wonder strike by David Perkins sent the nine of us into raptures and some looks from the locals as to why a group of wet blokes in walking gear were dancing around their pub!

It could have gone either way in extra time before the most nerve wracking penalty shoot out of all time, much worse than watching England in the World Cup. Each time Dale had to equalise and each time they did, to ever increasing cheers of relief. Then it was Tommy Lee's big moment. Having fooled Darlo's players in a false sense of security with the first 4 penalties, he 'cleverly' covered the straight down the middle shot with his trailing leg and the pub erupted again. Even our new mate Tom was joining in the cheering. Then with hearts pumping, up stepped Ben Muirhead and the rest is history.

Dale had made it. We were off to Wembley! 30 years of hurt, never stopped us dreaming.

Then in the evening, the first ever BURKS discussion on how much to spend on tickets for a Wembley final! How many for £36? How many for £46? Alan Wilson later assumed that in true BURKS style we would opt for £26. But it will down to every BURK to make their choice as to where to watch the game from and to enjoy the big day. As for me, £80. The pub rendezvous is 12:00, lets make sure we don't set off for the ground too late, or will have to find another White Horse. Hang on - White Horse, Wembley. Anyone remember 1923?

Wembley Woes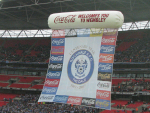 It wasn't to be for Rochdale, as a record BURKS turnout of 48 saw a valiant Dale performance fall short against a good Stockport side. My experience of the day was hampered by having the flu, getting wet on the walk from the Tube Station and not being let into the pub at 1:30 didn't help!